The recipe I have for you today isn't actually one of mine – I stole it, I admit. But I liked it so much I thought I'd share it with you today.
Borshch (or borscht, as we English-speakers tend to spell it) was everywhere when I lived in Russia – in local fast food joints, in huge pots in the canteen at the school I taught at, and simmering away on the cover of many a cookery book. There are many variations on this basic beetroot soup, but, sadly, it is almost always made with meat. But Russians are famously hospitable, so although I couldn't pop into a café for my beetroot fix, I could coax Russians into making vegetarianskii borshch for me.
This recipe is not so traditional – I've never seen one with feta or apples before – but it came out really well.
And here's how it turned out for me: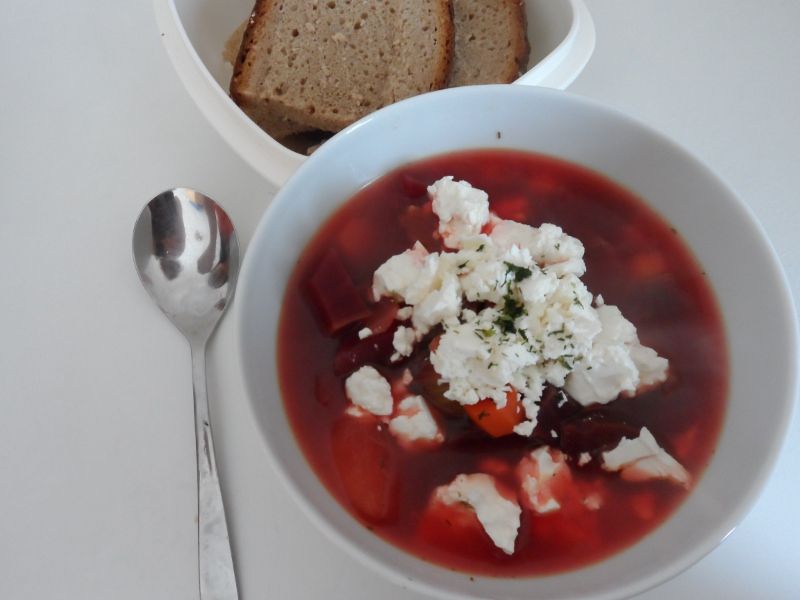 I didn't use sour cream (very un-Russian) because I'm not a mega fan, but the feta was delicious! I also avoid blending soups - and all the borshch I ever saw in Russia is chunky!
I was planning on making my own bread and didn't get a chance - but hopefully I will be getting a bread recipe to you soon that would be just perfect with this soup!
Have you ever had borshch in eastern Europe? What are your favourite beetroot recipes?
Love,
Emy