Did you know that India is about 40% vegetarian? And that even non-vegetarian Indians mostly only eat meat occasionally? I know Indian takeaways in England are full of chicken jalfrezi etc., but there is a big veggie tradition over there with plenty of recipes to choose from. Plus, Indian recipes always have great sources of protein like chickpeas and lentils. I made this chickpea curry with a friend the other night for the first time, and it was delicious without being too hot or needing too many expensive spices!
For two people, you need:
A can of chickpeas
(or a similar amount of dried chickpeas, soaked and boiled)
A green chilli
About 3cm of ginger
Three cloves of garlic
An onion
A teaspoon of cinnamon
A quarter teaspoon of garam masala
A potato
Curry paste
(I used mild, but I suppose you could go hotter if you wanted!)
About half a pack of passata
A lemon
Some fresh mint
Plain yoghurt, to serve
(optional)
There's a lot to chop, so you'd best get chopping! Onion! Ginger! Garlic! Chilli! Heat a large saucepan over medium heat and get the onion in there first. Cook for a few minutes, stirring away, until the onion starts to colour. Then add the garlic, chilli, and ginger, and give it another couple of minutes.
Now it's time for passata, curry paste, and the spices. Pour in and stir together until it's all combined - you don't want pockets of chilli and pockets of cinnamon in the finished dish! You can also add the potato (peeled and cubed) at this stage. Top the pot up a little with water - it will boil down a bit, and you don't want it to stick and burn.
Bring the pan to the boil, then turn the heat down and simmer for ten to fifteen minutes. When the potato is almost soft enough to eat, add in the chickpeas and give it another five minutes of simmering.
Dish up, squeeze over half a lemon per person and garnish with a good handful of mint leaves.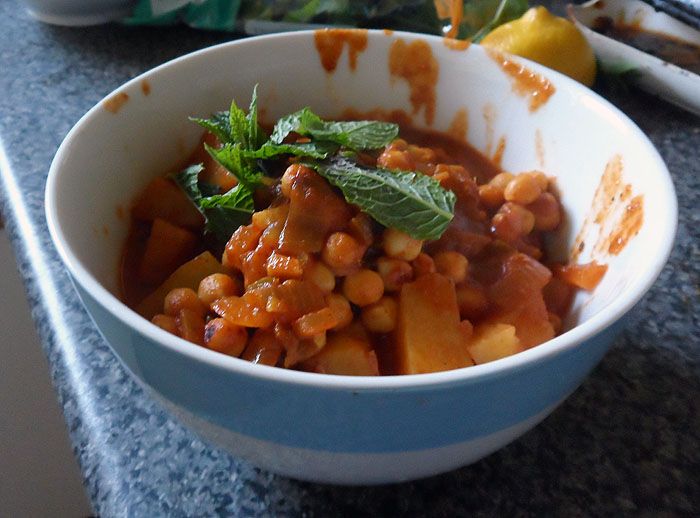 Are you a curry fan? What's your favourite type to make at home?
Love,
Emy
xxx